How do you graduate a group of 22 African and six American participants that has been through a 12-day training in leadership, conservation planning, and environmental stewardship? You don't. They graduate themselves. And it looks like this:[fve]https://vimeo.com/138187480[/fve]
In July, The Lost Mountain (now called LEGADO) held our 2015 Next Gen Symposium in Gorongosa National Park in Mozambique. The Symposium sought to 'disrupt' traditional university training by exposing participants to the fact that solving big conservation and development challenges requires that they have strong grounding in a range of disciplines.
I have been working toward the Symposium, without knowing it, for almost five years. In 2010, when climbing in Mozambique first appeared as a possibility in my world, I was, unbeknownst to me, also laying the groundwork for what just happened in July.
Writing that you want to create a combination rural development and biodiversity protection initiative on Mount Namuli takes ten words. Creating a sustainable initiative, fostering a team diverse thinkers and actors to create that initiative, reaching across disciplines, sectors, countries, continents, and languages, as well as reaching inside yourself, takes a manual that I know I'll be creating for a lifetime.
The Symposium became part of this manual via the following questions me and my team asked ourselves over the past year:
"How can we best prepare ourselves and our Mozambican conservation for work on Namuli?
…and involve leaders from the Namuli community so that we can learn from them and share with them?
…and offer a resource to emerging scientists, economists, sociologists, geographers and others who want to impact the world in new ways with their future work?
What I didn't know a year ago, however, is that I had forgotten a key question: How will the symposium fundamentally change my belief in this grand plan?
Here's how:
Ten months ago I gave a speech to a group of medical professionals in San Francisco. I talked about leadership, teamwork, risk, and the Lost Mountain. After explaining that I was the head of a conservation initiative on Mozambique's second highest mountain and a critical target for conservation in Southeast Africa, I told the crowd of 300, "I am not a conservationist."
I meant it. Because at the time, saying I was a conservationist meant claiming myself as someone who was classically trained in conservation science. Which I am not. What I am, or what I was comfortable saying I was then, is a professional climber, author, anthropologist, and social entrepreneur who founded a conservation initiative.
The day after that speech I received an email from a university student who wanted advice on how to combine their passions into a career they were proud of and inspired by. I wrote back and told them to take any big leap they could toward what drove them and to do this in whatever way they could for as long as they could—be it only four months, as an internship alongside a full time job, or for 1-2 years, or for the rest of their life.
"Give your passion context," I wrote, "and it will become who you are." I didn't realize then, that I wasn't listening to my own advice.
On July 20th we held a graduation ceremony in the waning light in Mozambique's Gorongosa National Park. 22 African and six American friends stood up, one at a time, and shared their own leap and also offered a leap for Namuli. They graduated themselves, from the Symposium and also into a new chapter of their own lives.
I am the mirror for the next generation.
Namuli is a green dream.
I am powerful.
Namuli is an inspiration for new young leaders.
I am an entomologist and this country needs my contribution.
Namuli unlocks the future.
28 offerings to the world of who these individuals are now in their most powerful vision of the future. And the gift of the same for Namuli.
It's exactly one month later. I've spend the past 30 days alternating climbing golden granite in the high mountains of France and Italy and working through the what next for the Lost Mountain. Processing the energy, ideas, and passion of a 35-person Symposium followed by 72-hours of advisory committee meetings leaves one energized, and breathless. And it's time to put it all back into high gear.
And so today, I'm starting where the Next Gen's left off.
"I AM a conservationist."
"Namuli is the legacy of our world."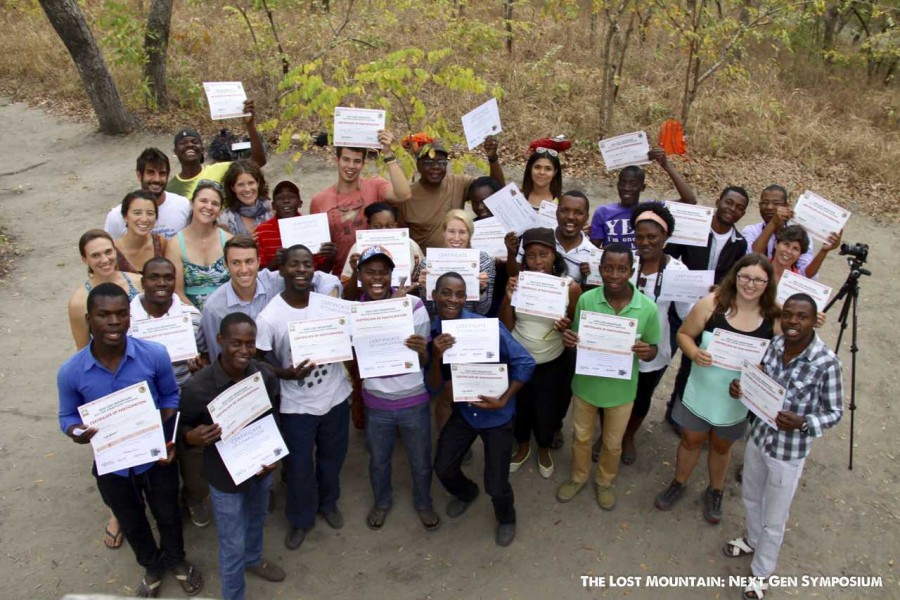 The 2015 Lost Mountain Next Gen Symposium would not have been possible without the generous support of so many. The Lost Mountain Next Gen Initiative's presenting partner is Positive Tracks, a national, youth-centric nonprofit that helps Generation Next get active and give back using the power of sport and adventure. With key support from Ethiopian Airlines, Osprey Packs and Goal Zero and supporting sponsors Clif Bar, Patagonia, Kickstarter, Petzl, Scarpa, Julbo and 1% for the Planet. www.thelostmountain.org