Waypoint Namibia | The Movie


As seen on: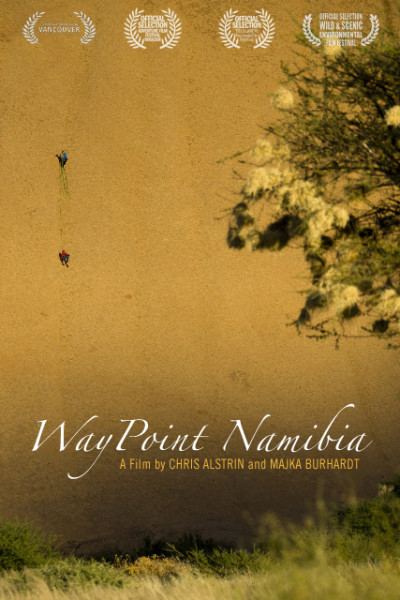 In May 2009, a small team of rock climbers departed for Namibia with two goals: to find a way up an unexplored face, and to find a way into a deeper understanding of southern Africa. At the heart of their trip lies the question, can adventure and culture combine to create understanding? "Waypoint Namibia" is the story of their journey.
An Official Selection of the Following Film Festivals
Mountainfilm in Telluride | Wild and Scenic Environmental Film Festival | Boulder Adventure Film Festival | Vancouver International Mountain Film Festival | Flagstaff Mountain Film Festival | Hory a Mesto Festival (Slovakia) | Horolezecky International Mountaineering Film Festival (Czech Republic) | Horyzonty Adventure Film Festival (Slovakia) | Mont Blanc Versant Durable | The Wild and Scenic Environmental Film Festival on Tour in California, Minnesota, New Mexico, and Washington State.
The Waypoint Namibia Team
A production of Alstrin Films | Directed and Filmed by Chris Alstrin | Executive Producer Majka Burhardt | Original soundtrack by Cheryl B. Engelhardt | Filmaker Gabe Rogel | Climber Peter Doucette | Climber Kate Ruterford
Waypoint Namibia Expedition Details
Waypoint Namibia Short Film
Can climbing give you access to understanding outside of the vertical? What if you have to go to Namibia to find out? In May, 2009, Majka Burhardt led a small team of explorers into a landscape of translucent scorpions, laser sharp granite cracks, 1.7 meter-long cobra tracks, and the Himba people–one of the last great Southern African pastoral tribes, all in the name of first ascents and cultural connection.
Namibia is Africa's newest independent country and was the first country in the world to mandate conservation in its constitution. As one of the least populated countries in the world, and one of the most progressive in Africa, Namibia combines peace, stability, and accessibility with rugged wildness and remoteness. In the past decade, Namibia has also developed a globally renowned system for resource management that pairs the conservation of natural lands with the economic stability of rural communities. How does adventure complement, and conflict with, environmental understanding? Majka Burhardt shares her story of connection with a country in Africa that impacts policy and economics from Mongolia to the United States. Schedule a Namibia Show by emailing Majka at mb@majkaburhardt.com.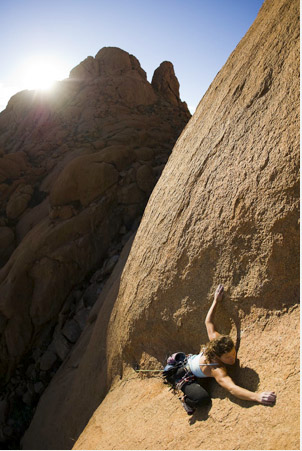 Many climbing flicks focus solely on the epics–huge dynos, 50-foot whippers, clutch sends–while the ineffable, in-between moments are excised. Happily, Chris Alstrin's film Waypoint Namibia, on granite-dome hunting, avoids this pitfall. As Majka Burhardt says early on, "No one went on this trip to climb. They went to go to Namibia." With stunning visuals, Waypoint follows Burhardt, Kate Rutherford and Peter Doucette in the African wilds–driving 12-plus hours in 100-degree heat, climbing through bird crap (literally), and battling hives inflicted by aggressive flora. The trio manages a masterful FA–Southern Crossing–while exploring the intersection of culture, climbing, and conversation.
Waypoint Namibia is a great film and a fresh look at adventure with social purpose.