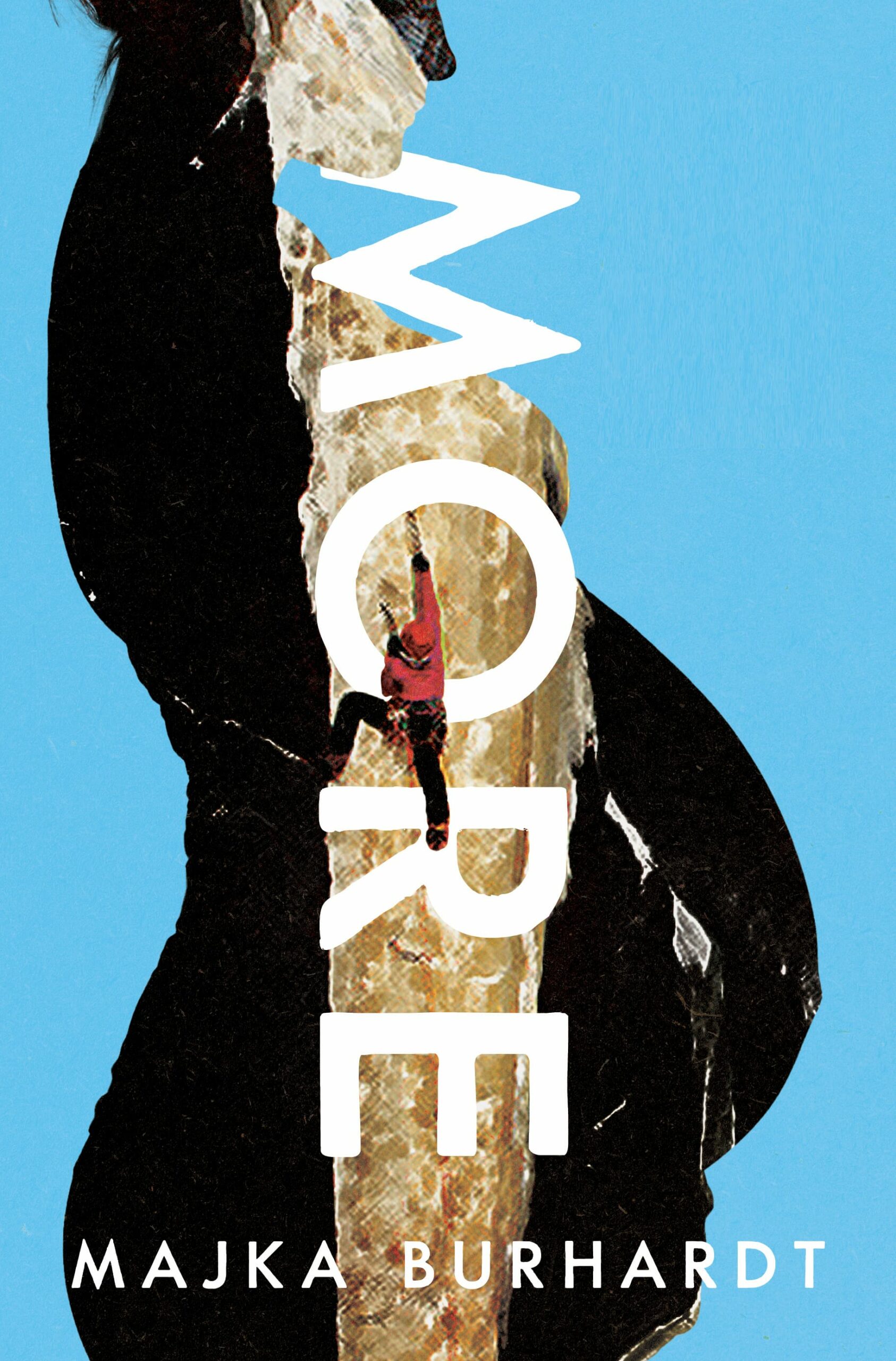 Life on the Edge of Adventure—and Motherhood
By Majka Burhardt
An intense and emotional epistolary memoir by one of the world's top ice climbers, born at the confluence of motherhood, adventure, career, and marriage. 

As one of the world's leading female professional rock and ice climbers, Burhardt and her husband led globe-trotting, adventure-seeking lives.  When she learns that she's pregnant—with twins—Burhardt at first tries to justify her insistence on pursuing extreme risk in the face of responsibility.  But she is  ultimately forced to grieve the avalanche of emotions that accompanies any major life transitions along with the physical changes in her own body.

Based on the letters and journals Burhardt diligently kept over the course of those six years, More takes the reader on an around-the-world journey as Burhardt explores the transformative, identity-shifting experience of motherhood and its irreversible impact on career, identity, marriage, and self.

In the early weeks of her children's lives, Burhardt immerses herself in adoration for her twins and grappling with the tremendous guilt and struggle around having to return to risk-laden work and that ever elusive balance mothers everywhere seek amidst it all. 

As the newness of her twins fades into a permanent reality, Burhardt turns her attention towards her marriage and the collateral damage as she and her husband, Peter, struggle to navigate their new normal. As anger and resentment threaten the foundation of her family, Burhardt courageously looks to her past—and her own mother's tumultuous and confusing history of success, violence, and ragged divorce—to better understand her own way forward.  How will she break free from the legacy of her own childhood to start fresh with her own family? 

Raw, candid, and galvanizing, More is a passionate and poignant testament to the enduring power of love and our lifelong journey to understand ourselves as we strive to always pursue more.
"Majka gives a heartfelt and honest account of the questions and inner dialogue so many people face with motherhood and what comes next. For anyone questioning the balance of adventure and parenthood and marriage, More is a book that offers a sincere look into how to unwrap the past, present and future."
– Beth Rodden, top American rock climber
"How do you, as a diehard climber and mountain guide, navigate the maelstrom of being a new parent and sustaining a marriage when both partners are also wedded to a life of adventure? As Majka Burhardt reveals in her searing honest memoir, you don't. You simply make it up as you go and hope to survive, much like you would on a serious alpine climb. More portrays this whole messy reality—with humor, beauty, and an unsparing eye for the visceral details. As a fellow climber and parent myself, I couldn't put the book down: It resounds with deep echoes of the human experience, and reveals the tightrope walk between risk and stability."
– Matt Samet, former editor of Climbing Magazine
"An insightful, honest, and heartfelt  view of what mothering looks like for an ambitious outdoor athlete. Written in the form of a journal for her kids, More is an entertaining read for anyone, and a must-read for anyone considering parenthood."
– Tommy Caldwell, professional climber, environmental activist and New York Times bestselling author of The Push
"As a professional rock climber and mother, I can certainly relate to Majka's thoughts and feelings about balancing motherhood with her relationships, marriage, work, and her passion for climbing. Her writings not only made me laugh out loud, but I was impressed by her willingness to share her most vulnerable inner thoughts and fears as a mother during this critical time of political, social, and environmental turmoil. This series of letters to her twins throughout pregnancy and their first four-and-a-half years of life, offer an insightful perspective about how the intense love for our children, can enable us to do what's best in the face of all the challenges of life and the sometimes messiness of motherhood."

– Lynn Hill, climbing luminary