---

---
Legado is a global venture that protects the world's most threatened mountain ecosystems by working hand-in-hand with the people who call them home.
Legado's History: In 2010, professional climber and social entrepreneur Majka Burhardt was sent a photo of a granite rock face in northern Mozambique.
Majka's curiosity about what was behind and beyond that rock face ultimately led to a May 2014 expedition with an international team of biologists, climbers, conservation workers, and filmmakers who collaborated in an exploration of Mozambique's second highest peak, Mount Namuli. The expedition spent a month conducting cliffside scientific and conservation research and fieldwork, using rock climbing to access previously unexplored habitats.
The 2014 expedition and a 2011 reconnaissance expedition were the catalysts to develop Legado, a global venture that protects the world's most threatened mountain ecosystems by empowering the people who call them home. Today, in 2019, Majka is the Founder and Executive Director. Legado works side-by-side mountain communities to create site-scale, local-leader driven programs to advance a thriving mountain people and their environment. Read below for more about just how this happens:
---
OUR JOURNEY
 Click the timeline to read in more detail about the journey of Legado.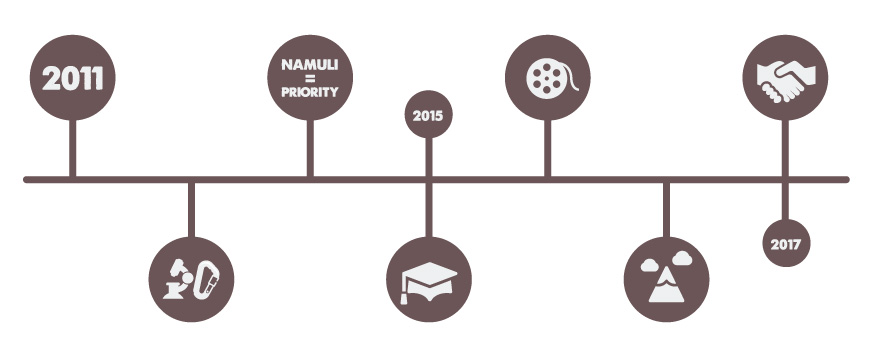 A WORLD IN WHICH INDIVIDUAL CHOICES LEAD TO A COLLECTIVE LEGACY OF A THRIVING PLANET
WE PROTECT THE WORLD'S MOST THREATENED MOUNTAIN ECOSYSTEMS BY EMPOWERING THE PEOPLE WHO CALL THEM HOME.
---
LEGADO CURRENTLY HAS THREE SIGNIFICANT INITIATIVES TO SUPPORT ITS VISION
---
---
Our flagship project on Mount Namuli, in northern Mozambique, engages world-renowned scientists, local community activists and conservation leaders to secure a vibrant future for the mountain and the people who depend on it.
Legado: Namuli
---
Scaling success and lessons learned from Mount Namuli across four other key inselbergs in Mozambique to protect some of the richest and most-underprotected biodiversity in the Eastern Afromontane ecoregion.
Sky Islands
---
The big conservation and development challenges in our world require strong future leaders. We help train, equip and empower young leaders from around the world.
The Legado Fellows
WHY IS IT CALLED "LEGADO"?
Mount Namuli is the ancestral home to millions of people, and the mountain is a standing symbol of hope and prosperity for the future. For this reason, we chose the name to "legado", which translates to "legacy" in Portuguese (Mozambique's official language). As you explore Legado, you'll learn how our curiosity about a chain of mountains in Mozambique is inspiring acts of leadership and legacy around the world.
LEGADO IS BACKED BY THE BEST
Legado is supported by a variety of generous funders, corporate partners, and private donors.
JANE B COOK MEMORIAL TRUST
---
With Previous Support
---