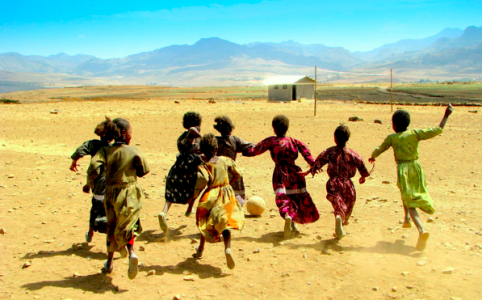 Last week I stood up on a stage by myself in a giant room and told strangers I liked when things were difficult. I was giving a speech at an event with Wright State University and Five Rivers Metro Parks in Dayton, Ohio and I told everyone that complexity was addictive and that I think it makes a life more interesting. And then I was given the gift of a complicated journey back to New England in a major snowstorm.
My travel day doubled in time and I had to chart a course through five states to get home. This would normally be a bummer. But this time I had an email with interview questions in my inbox. The first question: Why do you keep going back to Ethiopia? My answer: Because it's like Kevin Bacon.
Normally I might have said that I go back to Ethiopia because it keeps surprising me. This is, after all true. But I was waiting for my soon the be third cancelled plane of the day and I realized that the real reason I keep going back to Ethiopia is because it's really like a lot Kevin Bacon, the game.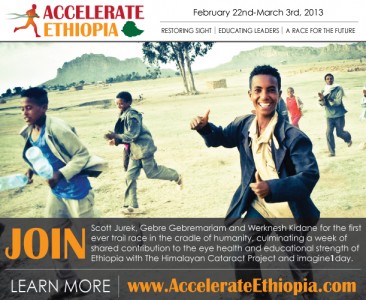 Let's back up. I head to Ethiopia this coming Saturday, February 16th, for Accelerate Ethiopia—the first ever trail race in Ethiopia with the big-promise tagline of "Restoring Sight, Educating Leaders, A Race for the Future." I helped create that tagline. I also listen to a lot of public radio, and NPR recently aired a story on how Google is integrating the "Six Degrees of Kevin Bacon" into its search engine. I don't know if Kevin Bacon has ever been to Ethiopia, or stared in a movie about Ethiopia, or has even been in a production in which Ethiopia is mentioned. What I do know is that, like Bacon, Ethiopia is ubiquitous. You just need to know how to see it.
Two years ago a doctor who does sight-restoring, life-restoring, surgeries around the world and a reformed lawyer turned executive director of an organization created around making that sight restoration accessible and affordable got in touch with me. They worked in Ethiopia. I worked in and around Ethiopia. That was reason enough to talk. A few years before that a group of passionate and committed Canadians who were developing some of the best new sustainable education practices in Ethiopia got in touch with me. We had the same reason to talk. Now, with Accelerate Ethiopia, we (theHimalayan Cataract Project, imagine1day and I) are all behind that big-promise. At times it was complicated to get here, but the connection was simple.
I believe that at the root of everything we do there are connections to what we care about. Sometimes we're lucky and we can see them. Other times we have to search for them. Ethiopia taught me that if something intersects you and you find it interesting then you should go further and see what happens.  Since Ethiopia is the cradle of humanity I always know that ultimately, if a human conceives something, then that something has something to do with Ethiopia. Try it. I bet you'll get to Ethiopia if you try hard enough, too.
Accelerate Ethiopia starts on February 22nd. Join us with #AccelerateEthiopia on Facebook, Twitter andInstagram from February 22- March 3rd.