EXPANDO-CRAG: MAXIMIZING YOUR CLIMBING SPACE, POLISH-STYLE
(Part of an on-going series on my blog of posts from my column Whipped, for Climbing Magazine. September, 2006 Installment.)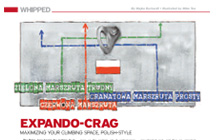 The Poles, long known for making do in the face of social, political, and economic hardship, have also always applied the same perseverance to sport. Consider the recent introduction of the bicycle with hydraulic saddle-lifting mechanism, or the kayak-surfboard for those especially tricky waves, introduced in 1999 with some success. But by far the best example of Polish ingenuity is the Expando-Crag, a yet-to-be-patented system I experienced firsthand during a month-long trip to Polska in 2005.
Before we go any farther, know that I am indeed Polish. My father has four "z's" in his name, and though I have none, I am a first- generation American who grew up a feisty Pole with an oddly spelled and eternally mispronounced name. From a young age, I learned to be "Polish and Proud," and when I started climbing, I realized I'd hit the Polish Pride jackpot — a whole national legacy of hardcore alpinists. Unfortunately, I'm not much of an alpinist anymore and I'm even less hardcore, so when I went to the motherland hoping to squeeze in some climbing between visits with family, I sought rocks, not frozen moss. [See "Vergras," No. 238, for more on the esoteric art of vertical-grass climbing in Poland.]
As it turns out, Poland does not have that many rocks. Or, not so many you'd want to climb, or evencan climb. When I contacted Piotrek Turkot, co-owner and editor of the main Polish climbing website (wspinanie.pl), and told him I would be coming to Poland to rock climb, his first response was, "Why?"
Polish climbers are inventive; they have to be. Little rock is available, and, unfortunately, much of it in southern Poland lies in Ojcowski National Park,where climbing is strictly prohibited as part of a wildlife-protection plan. On my first day out cragging, I drove northwest out of Cracow and watched endless virgin, forbidden, stark white fins of limestone fly by.
I was headed for the Kobylanska Valley, one of Poland's most popular climbing destinations, with its more than 200 routes eked out of three-dozen 50-foot-tall crags. In fact, as we hiked up the valley, I mistook the crags for outlying rock foothills — surely the real climbing lay just ahead. Not so.
Then, I saw the Polish army officers. Sixty of them practiced drills next to a short, squat, gray-streaked rock, and thus we unpacked our gear amidst gunfire and megaphone- enhanced shouts of NaPrawo! And Bacznosc! I looked up at the scruffy cliff, and then down at the camouflaged men all doing, on command, what looked like a summersault. In the States, I would have left for a bigger and quieter crag. In Poland, this is as good as climbing gets.
"Where are we going this afternoon?" I asked, sullenly counting a mere six climbs, nowhere near enough routes to see us through a full day of cragging.
"The afternoon?" Piotrek asked. "We will be here this afternoon. Haven't you heard about all our limitations?"
Limitations? Was this when we discussed our various injuries (my shoulder was acting up, my stomach was still bloated from too many pirogue the night before), or talked about our emotions that day (I was a bit lonely, which had probably led to the pirogue binge)?
"Limitations?" I asked.
Piotrek walked over to the rock, tracing his finger over a thin blue line. Did the rock, too, have its limitations?
"Too bad about the graffiti," I said.
Piotrek's forehead wrinkled as he shook his head, saying, "This is how you know where to climb." Or, as it turns out, where not to climb: Piotrek explained that the lines had been drawn intentionally, to delineate each route (of which there were 15, all told, despite only six obvious bolt lines). Game for the challenge, I grabbed some quickdraws, tied in, and cruised past the first two bolts, but then, left hand in a two-finger pocket, one foot on an edge slicker than gooseshit, and right toe forced into another pocket, I spotted a good sidepull outside the blue line.
My right hand twitched. I fought the impulse to grab the sidepull, looking between my legs to see if anyone was watching. A sea of expectant faces topped with army-issue green hats peered upward. Piotrek followed my gaze, and then looked back at me, raising his eyes as if to say, "Yes, for this you flew 14 hours, rode three hours in a train, and drove another 50 minutes."
Then, "Dajesz!" he shouted. Go for it! My hand again flitted right. "Up!" he yelled, this time in English, thus removing the last of my excuses.
Afraid the military men would take up Piotrek's chant, I scanned the rock above. I deduced that I was supposed to use a skin-ripping monodoigt within the painted lines. I dyno'ed, missed, and took an eight-foot ride, landing with my feet astradde the meddlesome blue line. It looked freshly painted, and I cursed whoever had wielded the brush.
This might be a good time to disclose that I'm not much of a gym climber. I don't like to follow the tape, and tend to make up my own "rainbow" routes as I go. Perhaps this comes from my background as a trad climber; I use what is there. But the Polish climbers, I learned, also use what is there, just in a different way.
On my second day out climbing, I learned my next lesson in crag efficiency: combinations. I had just de-shoed in the middle of the Mamutowa Cave, a dark enclave with lines of over-chalked holds surging out of its bowels, when Piotrek asked if I wanted to do another route. "How about this one?" he said, pointing to the line I'd just climbed.
"Didn't I just do that?" I asked.
"No, it's different," Piotrek said. "You go up two bolts, out left to the other climb for one bolt, then left again for two bolts, right one bolt. … "
I listened as Piotrek recounted what seemed like a complicated salsa sequence, and then added moves to match. I ended up going up three and left one, or maybe I went right and then up, or left when I should have gone up. As I paused after every bolt and considered the myriad options, I realized that while Polish climbers might not have invented grid bolting, they'd certainly perfected it.
In the United States, we tend to scoff at such egregious route-equipping. At Lumpy Ridge and Yosemite, for example, climbers have chopped new routes that lay within 20 feet of, or crossed, existing lines. In Poland, some routes lie within two feet of each other (separate bolts, anchors, everything), and no one is complaining. Once I embraced the new way of climbing, I was like a human checker. Don't like that hold? Go left. That reach too hard for you? Diagonal right to the next line. Too inflexible for that high step? Move sideways.
Perhaps the greatest thing about the Expando-Crag is that it works for climbers of all abilities. Fear not if you've already sent the hardest routes around — eliminations will save you. At Pockylec, the wave-shaped cliff that houses Poland's hardest routes, I watched a 16-year-old girl work a 5.14b that had been a 5.13d a moment before. How? Ignore the third crimper in the crux sequence.
By the end of my visit I took to using all three techniques: I followed painted lines when I felt like it, traversed onto a neighboring route if I got bored with or over-stimulated by the previous one, and skipped a handful of exceptionally nasty, greasy holds that I seemed unable to grasp, either literally or figuratively. Who knows? — maybe I even created a few new climbs. Possibilities abound when you think of climbing in this respect: Skip a few holds, ignore the obvious incut, and Voila! …er, I mean, Prosze! —the next 5.15 is born.