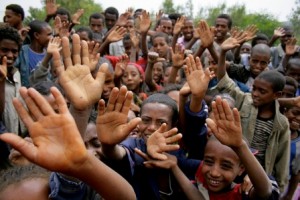 As one of the leaders of Imagine Ethiopia 2011, I wanted to share a progress update to inspire and potentially involve you in our next steps. Read on for more.
Earlier this year, Vancouver-based charitable organization, imagine1day, launched their second annual Imagine Ethiopia trip: a two-week adventure that takes participants on a daily exploration of the best that Ethiopia has to offer.
imagine1day is a growing global community of people making passionate contributions to ensure that all Ethiopians have access to quality education funded free of foreign aid by 2030. They ran their first trip to Ethiopia last year to great success.
This year's trip is fast approaching. The Imagine Ethiopia team is set to arrive in Addis Ababa (Ethiopia's capital) on October 23 and they are busy. Not busy packing bags – busy with Creatribution. In the lead up to the trip, this year's participants have chosen to take on raising $100 000 (the funds required to finance a three-year, self-generating education project with imagine1day) before they depart. You can support them here and US donors can support them through GO Campaign, our stateside partner, here.
What is Creatribution? Rather than bore you with an explanation of the concept, here is a glimpse at some of Imagine Ethiopia 2011's participants and what they are doing to ensure that $100K is in the suitcase bound for Addis this October:
Katie Thurmes
Creatribution: Give Good
Leveraging her strengths as a photographer, lover of people, and all round positive person, Katie did a special Mother's Day event in Denver, shot a fab wedding in Vegas, and used her blog to ensure that her community was more than excited to get involved.
Mary Anna Noveck
Creatribution: The First Grader, Wine, and Tennis
At first glance, Mary Anna's ideas of fundraising would seem to border on barely legal. All part of the plan, as Mary Anna has found support through her local school (they cut her a check for being so amazing), by setting up a wine tasting at a local cinema (Shiraz meets a screening of The First Grader), and by getting her Santa Monica tennis community involved in a benefit tournament. Ace.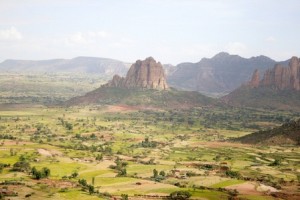 Andi McLeish
Creatribution: Climbing and Shooting
Don't get nervous, Andi McLeish is not the lone gunman on the seventh floor. She is the hardcore, rock climbing, photo-snapping lady your mother warned you about. From a series of photography gigs to a community-wide climb-a-thon, everyone knows that Andi is going to Ethiopia in October and that she expects some warm up climbs in Squamish in the mean time.
Nancy Herb
Creatribution: Summertime Big Easy
Nancy is not your typical educator. Sure, she knows her way around a school, and perhaps that's what originally peaked her interest in Imagine Ethiopia 2011. She also happens to be friends with some of the hottest Soul/R&B talent in Vancouver and is throwing a good, old-fashioned summertime fling to heat up an otherwise chilly summer in the Pacific Northwest.
Michelle Lazar
Creatribution: In Lieu
As one of those people who sees opportunity everywhere, when it came time for Michelle to devise of a Creatribution project, she didn't see what she wanted to do, she saw what she wanted to do instead. In Lieu challenges participants to choose a luxury in their life – Starbucks coffee every morning, television – and reallocate the funds they would normally spend on life's little indulgences to imagine1day's work in Ethiopia. Who's up for a double deep water well and a spritz of quality education?
Brittany Wood
Creatribution: Goals for Good
Date night is important and Brittany has got something for parents who may be looking for a little latitude when it comes to balancing time together and with the kids this summer. Goals for Good is a workshop that Brittany will be offering to school-aged children this summer in her home state of Washington. Kids will learn how to create a vision for what they want their life to look like in the future and will learn how to set goals that get them there. Drop off the kids, have a romantic evening out, pick up the kids, manifest destiny.
Michael Millard
Creatribution: How Do You Do TV
At first, Michael just wanted to get out of his apartment near Vancouver's Kitsilano beach to meet the people in his neighborhood. Then inspiration struck. How Do You Do TV invites people to submit videos that they make about the people in their neighborhood. The rules for submission are simple: your neighbor can't be related to you and can't be someone you've ever met before asking them to make the video. Michael is also available for hire to website sponsors to feature the businesses, products and services available in each neighborhood.
Co-leading this year's trip is Sapna Dayal, imagine1day's Executive Director, her colleague Adam Millard, imagine1day's Development Director, Majka Burhardt, a legendary rock climber, guide, author, and coffee expert, and Ted McDonald, owner of Adventure Yoga Retreats and lululemon ambassador.
And so the race is on: 7 Creatributors – $100K – 66 days. Inspired? Thought so. There is space on this team for one more participant: you. Please support our team through our fundraising goal page or click on the names of each participant to donate directly to their project. US donors: please visit our US partner GO Campaign to make a tax-deductible contribution.
Creatribution is imagine1day's innovative fund-raising model that exponentially leverages the strengths and passions of its contributors. The model challenges Creatributors to identify what they love (or what they feel they are best at), what they are passionate about (or what gets them out of bed in the morning) to discover their own unique contribution to the world. Then, each contributor creates a project that seeks to fulfill a unique contribution to the world in the most fun way possible.