It's always hard to write about rock climbing when you are ripping powder in a new bowl, or to write about skiing when you are latticing hand jams up granite. This year, I put myself on spring break to do both activities, type about neither, and then come home to the poodle and the computer.
I've spent countless season shifts in Red Rocks. For the past fifteen years it's been the place to either
jump-start or wrap up the year's era of rock climbing. Spring has always been my favorite time. It's when the green grass pokes through the sandy soil and softens the desert for the moment before you step on a barrel cactus. Spring is when the edges hurt your fingers because you've let them grow soft in your ice climbing gloves, when last year's warm up is the biggest send of the current day, and when the sun feels exactly like thing you've been pining for all winter long.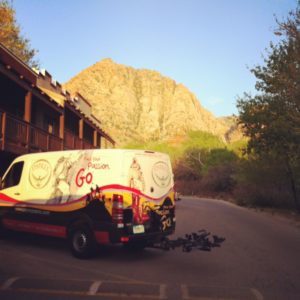 My Red Rocks dose this year was miniscule and magnificent. Day 1: climb with one of the best climbing partners I have—Kate Rutherford. Day 2: teach an introduction to rock climbing clinic at the Red Rocks Rendezvous. Over exactly 30 hours I had the honor of teaching someone how to trust themselves enough to move off the ground to swapping leads six pitches up a blanched white and sanguine red Red Rocks classic. It was hard to beat. It was worth the trek from New Hamsphire to Nevada. Even for those two days.
I'm in the middle of learning about how to live east and climb west, east, north and south. This time, I did it with two pairs of skis in tow. My brief Red Rock window made me want more. It always has.
The ski stories are coming. I promise. But first I have to go make up with the poodle for being gone.