Three years ago I saw a photo of a rock face in Mozambique. It became an astonishing force in my life. 36 months, a 3-week reconnaissance trip, and one very special frog later I'm heading to that rock face with an eight-person team of scientists, conservationists, and climbers in October.
We're finding species new to science, we're starting a new conservation area in one of the world's most precious biodiversity hotspots, and we're trying not to get bitten by some of the most poisonous snakes in the world. And most of that is while we're on a 2,000′ granite rock face on the 2nd highest mountain in Mozambique.  Today I'm asking you to join me: http://kck.st/15t2iKx
[vimeo 71031175 w=500&h=280]
I believe we all want to be part of bigger conversations that mean more. I believe collaboration creates deeper global impact. And I believe in this project more than was likely safe or surely logical when it started. Today, my team has the ability to send the scientists and climbers and conservationists, do the research, and come home. But we want to share the story. With your help, we can.
Ready? I hope so. Your support means the world. Here is how to get involved: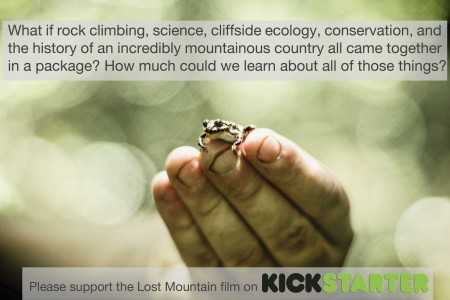 1. JOIN & CONTRIBUTE Become a backer of The Lost Mountain on Kickstarter. Your contribution is tax-deductible via our relationship with Filmmakers Alliance, a 501c3 organization. Kickstarter is all or nothing, so if we don't meet our goal within the next 27 days, we don't get a dime. The key to this process is momentum, so we'd love your help in building a successful campaign by getting your pledge in early.
2. SHARE & ENGAGE The single most important way to support The Lost Mountain is to help share our Kickstarter campaign through your networks. Spread the word through your circles — friends, co-workers, family — face-to-face or via Facebook, Twitter, Email and more. You can forward this email, send the video, or walk over and tell your neighbor about it. We have until August 29th to meet our funding goal — we're in it for all or nothing.
Thank you for your time and your support–I'm forever grateful for your help.
Obrigado!
-Majka
*Get the full details on the film, the team, what you'd be supporting, and more on Kickstarter and on the lostmountainproject.com